Western Weddings
Pearce, Arizona in Cochise County
We can provide an 1880's style wedding with a Freight Wagon, Or a 1978 "Baby Blue" Ford Ranger.
Start your next chapter here
Located in a rural ranching community with gorgeous views of the Chiricahua and Dragoon Mountains. Lazy Horse Ranch is a cowboy and cowgirl's paradise, and a vacation hot spot for equine enthusiasts, as well as a local outdoor venue alternative that can accommodate large or small groups. Lazy Horse Ranch is serving couples from our area, but couples are welcome to come to us from outside our area as we are a destination style venue. Honeymoon WITH YOUR horses! We have 16 corrals, a round pen, arena, 6 RV sites with full hookups, and hundreds of miles of trails in the local area! Yee-haw!!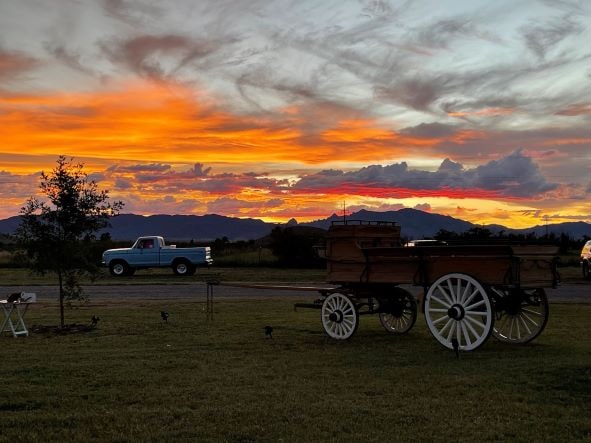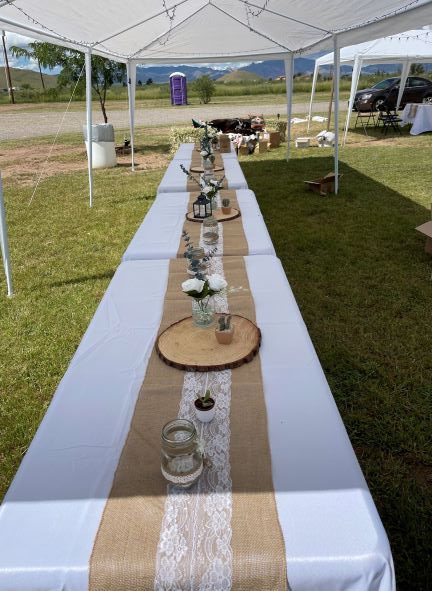 Our reception area is a combination of covered and open air with lots of individualized possibilities. We provide full use of the grounds for the event, which includes a building to serve food out of, a branding iron fire pit, tents and tables/chairs, outdoor lighting, and disco lights/dance floor. The ceremony and reception are held outdoors.
So Much to Think About. So Little Time.That's Where I come In!
Creating a budget
Choosing a style
Entertainment
Caterers and Desserts
Photography
Guests & Invitations
Gift Registry
Day Of Coordination
Rehearsal Dinner
Venue Decor
Transportation
Videography
Welcome to Lazy Horse Ranch!!
Southwestern Sophistication and Hospitality, but with all the modern amenities couples are looking for to make their special day perfect.  Our brand-new venue stretches across 20 acres of pristine land so our guests can sit back and watch the bird's sore high overhead, and see the horses run through the pastures.
Some of our amenities include a 500 square foot barn along with a bar for serving food and beverages right by the fire pit. Bring something to brand and commemorate your special day, just don't brand the bride's butt cheeks! You can bring your own brand, or have Jason build one custom for you!
Inside the main house is our beautiful bridal suite. This charming oasis is perfect for getting ready, spending time with cowgirls and family, or just relaxing. There is another building on the ranch for the Groom and his Cowboys too!
Couples are welcome to stay overnight in the suite. The list of possibilities at the ranch are endless plus we are animal friendly!
Share your vision with us, and we'll do our best to make it happen!
.
It's Going to be Perfect!
Let's Plan Your Big Day!